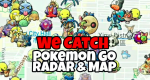 https://2captcha.com/software/wecatch-for-pokmon-go
WeCatch is a useful tool which powered by Pokémon GO community (Pokémon GO fans and lovers). The idea is to bring people together and share information immediately via the App. The followings are the main features:
1. Receive push notifications of rare Pokémon's location (Must login and filter first).
2. Search / Track Pokémon, Spawn Points around map area in real time and allow users to choose the Pokémon they are interested in showing on the map.
3. Easily share the Pokémon you found with your friends.
WeCatch for Pokémon GO has an integrated automatic bypass captcha system
2captcha.com