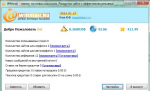 https://2captcha.com/ru/software/wmmclient
WMmClient - A program for automatically reading letters from the Wmmail.ru mailing list service, reads letters directly from the site.
To use the program for free, follow these steps:
1. After starting the program, click the "Settings" button.
2. In the window that appears, select the "User" item, if the window
"Activation key" is empty, then fill it with arbitrary information.
3. Highlight the "AntiCaptcha" item. Check the box next to "Use the service for recognition" and select the item "Rucaptcha.com". In the "Account Key" window, enter your "captcha KEY" of the Rucaptcha.com service.
4. Click the "Apply" button
WMmClient has an integrated automatic bypass captcha system
2captcha.com