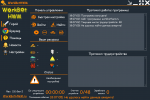 https://2captcha.com/ru/software/workbothwm
WorkBotHWM is a program for automatic employment in Heroes of War and Money (GVD). The simplicity and reliability of WorkBotHWM will allow you to quickly upgrade the Workers Guild without your participation. The bot can get a job 14 times a day, and the presence of two anticaptchi services will ensure stable work. The bot automatically analyzes enterprises, finds free space, and solves captchu. Doesn't prevent you from doing your own thing.
WorkBotHWM cost 200 rubles. for the first hero and 100 rubles. for the follow-up. You can download WorkBotHWM for free and evaluate the interface.
Differences between WorkBotHWM and analogues:
Excellent browser with Flash support;
Two Anticapchi services running in parallel;
A primitively understandable interface;
User tips;
Update check system;
One client → work for several heroes;
After paying for the bot, you do not need to download anything;
Flexible customization;
Continuous support.
WorkBotHWM has an integrated automatic bypass captcha system
2captcha.com