How to pass the captcha in the Discord messenger, why it does not work and what to do.
The Discord service uses
hCaptcha
.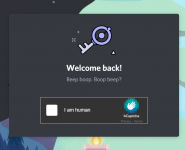 The easiest way to solve the problem:
- Disable VPN
- Disable Proxy
- Reset IP
- Reset browser settings
These actions do not guarantee that the captcha will disappear.
If the captcha still appears, install the browser extension. Link -
https://2captcha.com/captcha-bypass-extension
If there is a task to bypass captchas in large numbers, use the
captcha bypass API
.
Steps to bypass captcha verification
How to complete a captcha on discord.
- Implement anti captcha API
- Send CAPTCHAS for solve automatically
- Get fast bypassed captcha
Details about bypassing captcha are described -
https://2captcha.com/p/hcaptcha
.